Klipperrace - Dageraad
Cruise overview
Sailingarea
IJsselmeer
Embarkation
12-10-2018
20:00
Enkhuizen
Debarkation
14-10-2018
17:00
Enkhuizen
Costs
210,00
Capacity
25
Currently 10 available!
availability subject to change
Complete reservation
Experience the legendary Klipperrace - a sailing regatta in Enkhuizen with approx. 75 traditional sailing vessels - and be part of the crew that sails the Dageraad. Your hard work will be rewarded with a lot of joy and fellowship!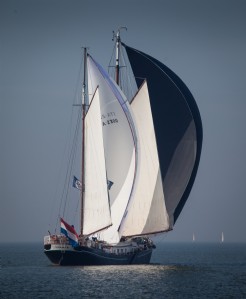 Boardingtime on Friday 20:00 pm. Saturday iand Sunday are raceday. At 9:30 am all ships will start at the same time. Sailing experience is not required for the race, but of course a good dose of commitment and perseverance is required. On Saturday evening it is cozy on board and in the city center and you can have a drink together with the other crews. Debarking on Sunday at about 17:00 pm.
Prices per person
| | |
| --- | --- |
| Shared cabin | EUR 210,00 |
| Bedding | EUR 16,00 |
| Bedding and towels | EUR 21,00 |
Included:
2 overnight stays on board in a shared cabin
Fullboard (2 x breakfast, 2 x lunch, 1 x diner)
Harbourdues and fuelcosts
Not included:
Drinks on board
Bedding and towels
Transfer to and from Enkhuizen
Personal expenses
Travel insurances
Complete reservation